Is this the best backlinking strategy in use today?
It may not be the best but it is a proven blueprint to ramp up your backlinking and get some good movement in the search engines.
When it comes to using backlinking as a means to rank higher in the search engines, there are a plethora of strategies, which are very effective. The one I am going to discuss in this post is a base-strategy used by many bloggers and Internet Entrepreneurs.
What I mean by base-strategy is that it can be tweaked and executed in many different ways using a variety of tools and resources. Alone, this strategy will work for most bloggers.
The principles of this strategy can be done for absolutely free without having to buy any software or tools. I personally use various software and outsourcing resources in order to maximize my production and spend less time building links and more time creating new revenue streams.
Backlinking Strategy Overview
This Basic Backlinking Strategy I've used personally with great success involves two levels of backlinks. Level 1 (direct), are links that you create which link directly to your money site, and level 2 (indirect), are links you create to your level 1 links (building backlinks to your backlinks). See diagram for an outline of this strategy.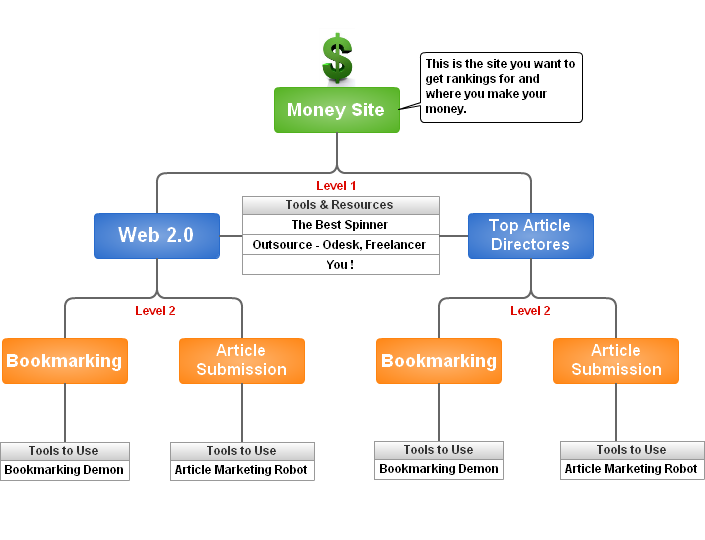 Level 1 Linking (direct)
Level 1 is the layer of Web pages you create that will link directly to your money site.
These include:
Blogs
Top Article Directory Submissions
Web 2.0 Sites
These new blogs, Article Directories and Web 2.0 sites that you create for free, are very beneficial in that they are a part of a larger, more powerful and higher ranking domain.
As an example, when you create a free blog at WordPress.com, even though the blog you create will start out with a low Page Rank 0 (PR0), it's still a part of the high-ranking PR9 wordpress.com domain. Eventually, as you create more content for these sites and create backlinks to them, your Page Rank will climb, which will give all of these links much more value; good for getting better rankings of your targeted keywords.
Ok, let's get down to backlinking business!
Step 1 – Create Accounts for Level 1 Linking
This can be a cumbersome and tiring process. Having to enter your new account information, then go to your email address and confirm it can take some time when you are doing this for dozens of accounts. I have two suggestions for you:
Set aside one day and create accounts for all your level 1 sites – caffeine up and play some music if it helps!
Outsource it. Hire someone to create all of these accounts. I use Odesk and Freelancer for most of my outsourcing needs.
Recommended sites to create accounts for (you can add new sites and omit as you see fit):
WordPress.com (not to be confused with WordPress.org, which is the self-hosted platform)
Step 2 – Create Content for Level 1 Linking
The content is the life-blood of most backlinking strategies and this one is no different. Here are three approaches to content creation.
Manually Spinning – Spinning content gives you the ability to quickly create multiple versions of the same article. This is a huge time-saver and is an integral part of my backlinking campaigns. Read What is Article Spinning for me information.
Using The Best Spinner (see The Best Spinner Review), I will take a piece of original content (blog posts, pdfs, ebooks, etc) and spin it. If I'm doing this for Level 1 content, I will use a higher level of editing. Once I finish created my spin-formatted article, I will take 1 spun version to use for an article directory. I will proofread it and make any necessary spelling and grammatical changes. This method takes a little longer than simply using the one-click easy spin option, but the results produce a better article; much more likely to get approved by article directories.
Outsourcing – I will also outsource this content using Upwork or Freelancer. In addition to using the spinning software to create different versions of the same article, I will higher several people to rewrite the base-article for me. This ultimately has the same affect. I've hired a dozen people to rewrite a 500 word article for me at roughly $2 per article rewrite.
The advantage to outsourcing is the time you save by not having to spin articles yourself. This is time you can use in other aspects of marketing your website(s). The drawback is that it can be a bit more expensive compared to a one-time purchase of The Best Spinner.
I also do this in bulk and give 10 – 15 writers 30 articles to rewrite for me. Using 15 writers, this creates 450 unique articles (15 x 30 = 450). That's a ton of content you have at your disposal!
Do It Yourself – In order to get results from your backlinking campaign you are going to need a large amount of content. Although writing all your content (including rewriting articles for multiple versions) is cheaper in terms of dollars, the cost in terms of time is huge. The amount of time you spend writing and rewriting content is time you could spend performing other aspects of marketing your site. I've spent countless hours doing this and it can be a complete drain and poor way to manage your time.
Although I write the content for my money sites, I use Approach 1 and 2 above to create the content for my backlinking.
Step 3 – Submit Content to Level 1 Sites
Personally submitting content to these sites can also take up a bit of time. If you are going to do this yourself, I recommend you get all the articles you want to submit setup so you can go site by site and submit them as quickly as possible. Depending on how many sites you create will determine how long this takes you.
Of course, you can always outsource. I pay people to rewrite content for me, then I pay another group of people to actually submit this content to my various Level 1 sites. This saves me a huge amount of time and allows me to simply manage the process instead of actually performing all of these tasks.
Once you've submitted your content it's time to reinforce all of these Level 1 links with some Level 2 backlinking.
Level 2 Linking (indirect)
This is where you can really get the link juice flowin'. Creating backlinks to your Level 1 links is important as this reinforces your main, level 1 links and gives them more authority in the eyes of search engines. This Level 2 linkjuice also flows down to your Level 1 links and onto your money site. The more link juice you have flowing to your money site (both directly and indirectly) the more you will increase your rankings in the search engines and improve your chances to getting to the highly-coveted first spot on page one of Google.
Another reason why you don't want to link directly to your money site is because you're creating hundreds of backlinks in a short period of time and if you point all of these backlinks to your money site, it may raise a red flag to search engines. If search engines such as Google detect a huge amount of links all-of-the-sudden pointing to one site, they may penalize your site for trying to "game" the system and using spam tactics.
When you point these links to your level 2 sites, which have high rankings, large amounts of traffic and tons of content, they'll be able to handle this influx of links, and at the same time pass along that link juice to your Level 1 sites and ultimately your money site. These Level 2 sites act as a kind of shield or buffer while allowing you to reap the SEO benefits at the same time.
The two methods used for Level 2 Linking:  
Article Submission – using Article Marketing Robot
Bookmarking Submission – with Bookmarking Demon
With Article Marketing Robot you can submit spun articles to hundreds and even thousands of article directories on autopilot. This software does everything from account creation to submission. You will not have to sign up for accounts to any of these directories or submit any articles manually. That's the whole point of this software; it does all the heavy lifting for you.
Here's a video explaining how Article Marketing Robot works.
There is a bit of a learning curve with the software. It took me an entire weekend to fully grasp what it does, but once I understood it, I loved it! This has saved me a great deal of time and money and I wouldn't have nearly the level of success without it.
For every article or post I have on my Level 1 sites, I create an article blast (just an article submission project to the directories I choose) to that piece of content using Article Marketing Robot. This results in several hundred backlinks to my Level 1 sites.
Bookmarking Demon works in a similar fashion to AMR as it automates the account creation process and the submission process. As oppose to submitting articles to article directories, you submit bookmarks to sites such as Delicious, Reddit, StumbleUpon, etc. It comes with over a hundred bookmarking sites built in but you can add as many sites as you want.
I currently use Bookmarking Demon to create links to some of my Level 2 sites, my Level 1 sites and a few select pages on my money sites.
This is a proven strategy used to great success by many bloggers and Internet marketers. I highly recommend this strategy for those who are looking to make money from there blogging efforts and other Internet businesses. It also serves as a great backlinking base-strategy that can be added to and tweaked.
Here's a quick step-by-step guide that will help you get your backlinking party started!
Note: I can't stress to you enough how important it is to keep track of the URLs to the content you will be creating. You will be using many of these URLs as links for article submissions, bookmarking, interlinking between sites and other, future backlinking strategies you will mostly likely get into as you develop into a backlinking expert! 
Step 1: Write an Original Article Related to Your Money Site's Niche
This unique content should typically be around 450 – 550 words in length. Although the length isn't extremely important, it's smart to stay within this range as many article directories have 400 word minimum for article submissions.
I recommend publishing this original article on your money site before you move on to the next step. You can kill two birds with one stone by adding this content to your site and using it in step 2 below.
Step 2: Prepare The Article for Spinning
I use The Best Spinner for this. It has several tools which you can use to spin your article. Some of which are quick and very easy (as in "push a button" and its spun), but lack quality, and others that take a bit more time, but produce higher quality. If you decide to incorporate The Best Spinner into your backlinking strategy, I recommend you watch all of the tutorial videos and check out the forum which will help you discover the best practices for using this software.
Step 3: Submit to Level 1 sites
Once your article is spin-formatted, you can view a spun article. Review and edit this spun article as needed then post it to one of your Level 1 sites. Repeat this process until you've posted a unique version of your spin-formatted article to all your Level 1 sites. Make sure to keep a list of the URLs to the content you've created as you will need to use these for your bookmarking. I use an excel workbook to keep track of my sites, profiles and URLs.
Step 4: Submit to Level 2 sites  
Take your spin-formatted article you created in The Best Spinner and simply copy and paste it into Article Marketing Robot. Setup an article blast using this spin-formatted article and one of the accounts you've created and let the submission process run on autopilot.
Step 5:  Perform bookmarking with Bookmarking Demon.
I recommend you bookmark all of the Level 1 content which links to your money site.
Pick a handful of some of the Article Directories with high Page Rank you've submitted to using AMR and bookmark them as well. This will create even more link juice.
Bookmark a few of the pages on your money site you are looking to improve ranking on.
This in itself is an effective backlinking strategy. There are many parts to it and it can take a bit of time to fully grasp and actually execute. Doing this manually is possible, but will take up a large portion of your time. I personally, employ the concept of Opportunity Cost when I make decisions about my overall Internet businesses.
Opportunity Cost is the value of the next best alternative forgone. Put another way, by spending time doing activity A, what other activities are you not able to do? By spending hours manually rewriting content, signing up for accounts and submitting content, you are not spending time performing other tasks which are necessary to successfully marketing your blog or Internet business.
This is why I use a mix of outsourcing and software to make the best use of my time, and give myself an opportunity to do other things which will grow my business. With that said, everyone has a different budget and the outsourcing and various link building software comes with a monetary cost. I personally find the value I get from this approach is worth it. But, to each his/her own.
Carpe Diem!
How can you squander even one more day not taking advantage of the greatest shifts of our generation? How dare you settle for less when the world has made it so easy for your to be remarkable?

– Seth Godin
Please note that links to software and resources in this post are affiliate links that I do get compensated for. I'm a firm believer in generating income from affiliate marketing when you provide value to people.